JOHNSTON's get CROSS due to forthcoming regulations on manure spreading
JOHNSTON TRACTORS are teaming up with CROSS Agricultural Engineering from Ireland… to provide customers with a full range of Muck and Slurry machinery designed specifically for compliance with regulations coming into force over the next few years.
Designed and built in County Kildare Ireland, CROSS equipment is made to the highest standards using quality materials and manufacturing methods. CROSS was established in 1985 and comes from 5 generations of metalworking within the Cross family. Now led by driving force Simon Cross, the company manufacture a range of equipment including advanced Beet harvesting technology and a range of tillage machinery among other things. JOHNSTON TRACTORS will primarily focus on distributing CROSS vacuum slurry tankers and muck spreaders from their branches in Carlisle, Dumfries and Penrith.
CROSS Slurry Tankers
Farmers, contractors and anyone else involved with agricultural land management will know that the rules surrounding the spreading of slurry in the UK are set to become much stricter. Both the English and Scottish government are focusing on limiting agricultural diffuse pollution with clean air strategies that call for low-emission slurry spreading equipment. This will effectively mean a phase out of traditional splash-plate spreading, with a complete ban coming as soon as 2025. Recognising that investing in equipment to replace traditional methods is expensive, the government has made grant funding available to support the acquisition of new nutrient management technologies. It is timely for users to start thinking about options available on the market if their current equipment is inadequate or unprepared for the change.
For this reason, JOHNSTON TRACTORS wanted to partner with a manufacturer that produce a range of slurry tankers designed with precision spreading in mind – to offer customers the best solution for their investment. CROSS have been developing such solutions for a number of years given that Ireland have already started implementing a ban on splash-plate. Therefore, CROSS was the "Obvious Choice" with their knowledge and experience manufacturing slurry tankers equipped with rear: Dribble bar, Trailing shoe and Injector applicator systems. CROSS tankers can be bespoke built to customers specifications with 3 options that start as the base: Non-Recessed, Recessed and Tandem axle. Available in capacities from 1,150 to 6,000 gallons.
Specifications Tailored for the JOHNSTON TRACTORS customer base
JOHNSTON TRACTORS are now stocking and initial selection of 2,000-, 2,500- and 3,000-gal CROSS Recessed tankers with and without Dribble bar. In addition to standard features these models come with a specification tailored to suit customers in the dealers' local area. These include: 10 stud commercial axels for high-speed use and efficient braking, double folding Dribble bar for neat transport, twin spring drawbar improving road and field suspension, large capacity stone trap, and CROSS's straightforward in-cab electric control panel. All major components on the Cross tanker are sourced from leading manufacturers such as the Hertell vacuum pumps (PTO and Hydraulic drive), which are made from durable ductile steel and have a reputation for ease of servicing.
CROSS Slurry Tanker range brochure – https://www.crossagrieng.ie/_files/ugd/e66f82_c5baf0dea19347e8942845f444360a55.pdf
Chassis Mounted Attachments – Dribble Bar
The CROSS range of slurry tankers can be supplied with or without a rear applicator system. JOHNSTON's have opted to stock some machines with Dribble bar. A significant feature of the CROSS tanker design is that attachments such as Dribble bar are mounted on the chassis. A chassis rail runs along the length of the bottom of the barrel adding structural strength to the tanker and providing a quick attach mounting point at the back. The result is a much stronger applicator mount with none of the weight of the attachment acting on the back door or tanker barrel itself, which would cause wear and tear over time. Plus, it allows the user to easily detach the Dribble bar and mount it directly on a three-point linkage for umbilical spreading without any modification.
CROSS Dribble Bar range brochure – https://www.crossagrieng.ie/_files/ugd/e66f82_af24a39797604e048b62a6389eaa2e36.pdf
CROSS Muck Spreaders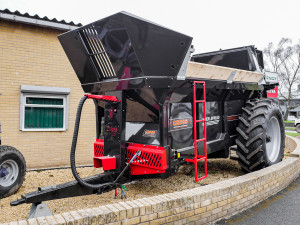 The CROSS 1100 muck spreader is an 11-ton capacity rear discharge machine that achieves an even spread from full to empty. The heavy-duty twin vertical beaters work along with a variable speed hydraulic floor to give consistent and accurate spreading output. Standard features on the CROSS spreader include automatic light covers when spreading, two-pack paint for an extended life of the finish, reversible beater teeth, and LED lights. JOHNSTON's have selected the optional wooden side extensions, commercial axles/brakes, wide-angle PTO, and a hydraulic slurry door for their stock model.
CROSS x JOHNSTON TRACTORS
All in all, JOHNSTON's new partnership with CROSS gives the dealer the ability to supply exceptionally made future-proof Muck and Slurry spreading equipment. "Both CROSS and JOHNSTON TRACTORS are dedicated to quality and service," said CROSS managing director Simon Cross, "We are proud to be able to extend our offering to farmers and contractors across JOHNSTON's trading area, with our slurry tankers and muck spreaders that can deliver class leading levels of performance and reliability".
JOHNSTON TRACTORS Managing Director Howard Johnston commented: "Forthcoming changes in legislation together with the need to maximise the nutrient value of muck and slurry prompted us to look for a supplier with a complete range of equipment suited to our area. We are delighted to have been appointed by CROSS Agricultural Engineering as regional dealer for their extensive product line up.".
JOHNSTON TRACTORS are now stocking a range of CROSS machines which are available for sale or hire. Customers who are looking for a bespoke build are encouraged to start the conversation about their requirements well before they need the machine. Further details about CROSS slurry tankers, applicator attachments, and muck spreaders can be found at the below links and/or by contacting any JOHNSTON's branch.
CROSS Agricultural Engineering Factory video – https://youtu.be/Qkz_jL8Pofo
CROSS Slurry Tanker range web page – https://www.crossagrieng.ie/slurry-tankers
CROSS Double Folding Dribble Bar video – https://youtu.be/mWo94oHaZ_g 
CROSS 1100 Muck Spreader video – https://youtu.be/9oWLW0wMlHM
---
JOHNSTON TRACTORS Carlisle – Tel: 01228 538585
JOHNSTON TRACTORS Dumfries – Tel: 01387 255355
JOHNSTON TRACTORS Penrith – Tel: 01768 362692
Founded in 1962, JOHNSTON TRACTORS is a family-owned company which supplies and supports agricultural equipment including tractors, farm machinery and farm/off-road vehicles. With branches in Carlisle, Dumfries and Penrith – JOHNSTON's provides a quality sales and after sales experience to customers in and around Cumbria and Dumfries & Galloway.