Johnston Tractors – People Stories: Richard Morton, Fendt Product Specialist
At Johnston Tractors it's the people that make our business, they play a valuable role, so we thought you'd like to get to know a little more about them and what they do.
Meet Richard Morton – the Fendt Family man
Working across Carlisle, Dumfries and Penrith branches… Richard Morton joined the team in December 2020 as the Johnston's Fendt specialist. Who better to take on the role than someone who ran a Fendt family dealership.
A bit about Richard:
When Richard started driving, he learned on a Fendt. His father and uncle started a Fendt dealership in the early 1980's and in 2008 Richard bought his uncle out and the business became a father and son Fendt affair.
Richard has always been heavily service orientated and usually found in the workshop, so his skills  were still put to good use when their business merged with Carrs in 2015.
When the Fendt brand moved to Johnston's, Richard was only too pleased when Howard Johnston invited him to join the team in December 2020. We're delighted that he has chosen to bring his Fendt experience to our family business.
Outside of work:
Richard has green running through his veins – his hobbies include collecting Classic Fendt tractors to admire, fix or rebuild. A big fan of Formula 1, he supports the Mercedes team.
Beyond tractors, Richard also loves family life with his young children and hankers to go skiing again… one day.
We asked Richard what he loves about Fendt?
Tell us about Fendt…
"It's a premium brand with excellent resale value. Technologically speaking it is definitely leading edge, always one step ahead, though the gap is narrowing (in terms of cost and technology), but it is still ahead of the field.
"They offer a great driver environment and are very efficient at driving down running costs."
"In the 1980's and 90's Fendt was twice the price of Ford and Internationals, but the gap is narrowing, and a new generation of farmers are trading up to Fendt.
"In the past it was seen as a Contractor's tractor, but today it has a wider appeal. The standard model always comes very highly specked (80% will have GPS guidance as standard) and they are very reliable. Fendt tractors also hold their value well.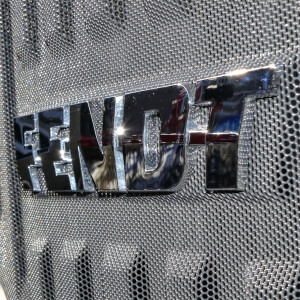 "Resale value – when it comes to the cost of ownership you can't beat Fendt. They may be more expensive to buy but taking into account the running costs and the excellent second-hand book values, they're a very efficient and effective vehicle to own. Buyers are not scared of adding the hours to the tractor – because even with high hours, future buyers still have confidence in them.
"Buyers new to the Fendt – Fendt tractors were big, but there are smaller ones, and they are more affordable today – retaining their value very well – that's why more people are looking at them as part of their business model – farmers are businessmen now – and the accountants and the books are part of the decision. What is offered as standard on a Fendt is very appealing, but sometimes the spec level is driven by what the neighbours have and what the rest of the family have – a bit of friendly family competition.
"The new Fendt model has an improved driver environment, including arm rest and operating station. These are things that make a difference when you are on a tractor all day.
The Fendt transition to Johnston Tractors
"We now have Fendt tractors on the forecourt at our Carlisle head office location opposite Harrison & Hetherington auction, means we've got great visibility. Dumfries and Penrith branch also have product for people to view"
"Officially Johnston's took over the exclusive Fendt dealership at the start of April 2021, but there has been a transition period over the last 6 months, during which our team have been training and taking enquiries. We've already sold a number of Fendt tractors and are getting more and more service jobs which is good experience for the service team who have done a great deal of online learning.
"Springtime is a good time for demo's, so I'm busy talking to potential new customers, and some who I've sold tractors to in the past. The world is a smaller place, and the internet means you can buy a tractor from all over the UK. My long history with Fendt is really beneficial at building trust for customers on our patch.
"I may sell the first tractor, but it's the after-sales support parts and service team that sell the second and third tractors to a customer. It's about reassurance and reacting quickly during the busy season."
Sharing knowledge with Johnston's
I've always been passionate about servicing – both looking after customers and making sure tractors are working in peak condition. I have high expectations on delivery and it's a philosophy I can reinforce at Johnston's who I know share the same ethos.
Johnston's is down to earth and approachable in every department. I'm enjoying passing on my experience and knowledge. One of the benefits of working for a family firm is that unlike larger corporate businesses, you can be quicker to respond to the market and changes in farming fortunes.
Trust and knowledge are very important – and being familiar with existing Fendt customers is a good start.  I'm looking forward to staying in touch with current Fendt owners and introducing new people to the brand – and who knows, I may even convince a few John Deere fans to take a demo!
Please get in touch with your Johnston's sales representative to discuss anything relating to Fendt product sales or general enquiries, but you can also reach Richard using the details below…
Richard Morton – Mobile: 07850 308537
We encourage Fendt users to contact us if you would like to discuss support and warranty matters with your existing equipment. Our three branches are available for parts and service support of all Fendt products so please call the team at your nearest location and they will be happy to help.
JOHNSTON TRACTORS LTD
CARLISLE – Tel: 01228 538585 – Montgomery Way, Rosehill Industrial Estate, Carlisle, Cumbria, CA1 2RW
DUMFRIES – Tel: 01387 255355 – Dargavel Stores, Lockerbie Road, Dumfries, Dumfries & Galloway, DG1 3PG
PENRITH – Tel: 01768 362692 – Jackson House, Myers Lane, Penrith, Cumbria, CA11 9DP
Opening Times (All Branches)
Monday to Friday: 8:00am – 5:00pm
Saturday: 8:00am – 12:00 noon
Emergency call out available out-of-hours, please call main branch number and follow menu options if required.